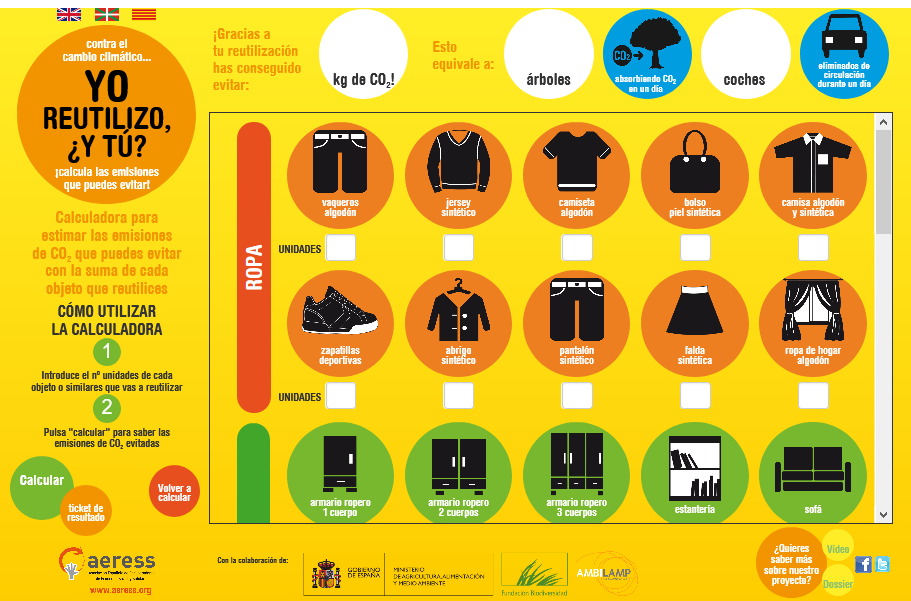 Development of calculator to estimate avoided emissions
Design and implementation of an on-line CO2 calculator to estimate avoided emissions resulting from the reuse of certain products.
START DATE: February 2013
END DATE: November 2013
CLIENT: Spanish Association of Recoverers of Social Economy and Solidarity (Asociación Española de Recuperadores de Economía Social y Solidaria, AERESS)
LINKS:
Design and execution of a calculator to estimate the amount of greenhouse gas (GHG) emissions avoided through recycling and reuse. It consists of an on-line tool which allows citizens to calculate the emissions avoided by buying a second-hand product.
The phases of the project were:
Selection of the products for the comparative analysis. Four groups were made: clothes, furniture, domestic appliances, various. Subsequently a list was made of the most representative products in each group.
Search for information sources: literature search on the subject of GHG emissions in the production, reuse and recycling of the product.
Calculations (information treatment).
Design of the on-line calculation tool.
Balance of emissions avoided by the organizations of the Spanish Association of AERESS.
Creation of a methodology document.