Urban Forestry is a transdisciplinary field, spanning from urban design to forest ecology, from socioeconomics to information and communication technologies. This course takes all these aspects into consideration, in order to provide you with a well-rounded knowledge of Urban Forestry
The megatrends are clear: by 2050, 84% of the European population will live in urban areas, while air pollution and climate change will continue to harm the health of European citizens. Despite minor improvements, pollution levels that regularly exceed the European Union (EU) limits as well as heatwaves endanger the lives of especially young and elderly people. Urban forests are effective Nature-Based Solutions (NBS) that help mitigate the effects of climate change while improving air quality, urban temperature, and lifestyle of modern cities. Many global cities across the globe are setting ambitious urban reforestation targets while struggling to face related costs and citizens' engagement to meet current changing and future needs. On the other hand, urban planning and forest sciences have failed to provide interdisciplinary training to engage with innovative public-private urban forestry (UF) initiatives and trends. This course focuses on introducing the concept of Urban Forestry (UF), exploring the different and closely interrelated topics that constitute the foundations of this field. As Urban Forester, you will have to learn how to think and act with an interdisciplinary approach, cooperating with other specialized professionals to develop effective and sustainable solutions for our cities. In addition, you will learn to face the complex situations that are common when planning and managing forest and tree-based systems in urban and periurban environments. By attending this MOOC, watching and reading all the contents included, and participating in the activities proposed, you will improve your understanding of:
what Urban Forestry is, the variety of disciplines involved and the competencies achieved;
the importance of developing a transdisciplinary mindset to work in Urban Forestry;
the main aspects to be considered while developing an Urban Forestry project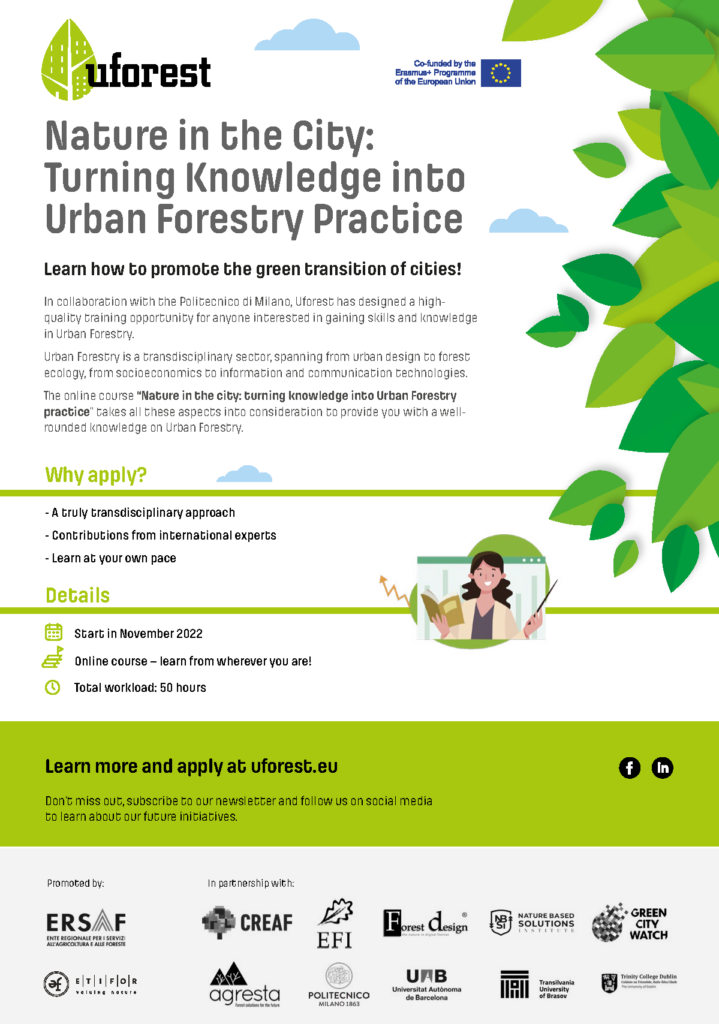 The course is designed as a choral MOOC based on the valuable experiences of international experts. Real case studies offer a compelling picture of challenges and strengths that needs to be considered when designing a new initiative on Urban Forestry. The MOOC is a component of the European Innovation Programme on Urban Forestry 4.0 dedicated to university students.
To know more about the program and how to enrol, please visit: https://www.uforest.eu/opportunities-for-students/
This MOOC is provided by Politecnico di Milano in collaboration with Ente Regionale per i Servizi all'Agricoltura e alle Foreste (ERSAF), Etifor | Valuing Nature, The European Forest Institute (EFI), The Universitat Autònoma de Barcelona (UAB), CREAF, AGRESTA Forest solution for the future, Transilvania University of Brașov (UNITBV), Forest Design, Trinity College Dublin, Nature Based Solutions Institute, Green City Watch.
In addition, students will have the opportunity to deepen their knowledge even further by completing the Uforest Programme. Beside the "Nature in the city" online course, the Programme foresees an additional online course (Greening your city: develop your urban forestry project) and one intensive in-presence training (Innovation Programme). By completing the Uforest Programme, students will gain specific knowledge and skills to help them develop effective urban forestry solutions for the green transition of cities.
Uforest is a Knowledge Alliance project co-funded by the Erasmus+ Programme of the European Commission. The project is promoted by the ERSAF, Politecnico di Milano, Etifor, EFI, Universidad Autonoma de Barcelona, CREAF, Agresta, Transilvania University of Brasov, Forest Design, Trinity College Dublin, Nature Based Solutions Institute, Green City Watch.