Last September 5th, 2017, Nur Algeet, PhD in Forestry Engineering and specialist in remote sensing, and David García, expert in innovation and development, both of whom are part of the R&D team at AGRESTA, gave a presentation in the French city of Bordeaux as part of the Bordeaux Sciences Agro – Amphithéâtre Sylvae – Bâtiment Brémontier entitled "Remote sensing applied to the evaluation and management of forest resources: LiDAR and satellite data"("Télédétection appliquée à l´évaluation et la gestion des ressources forestières : LiDAR et données satellitaires").
The presentation formed part of the "Conférences des bois", a series of conferences aimed at promoting and strengthening the image of the forestry sector among students and professionals which are being held every Tuesday throughout the year as part of the "Plateforme de Formation Supérieure Forêt Bois de l'Initiative d'Excellence de l'Université de Bordeaux".
---
See the calendar for "Conférences des bois" 2017-2018: programme
---
All the conferences are shared with Quebec within the AQforêt-Bois agreement and can be followed live through videoconference. Each presentation is filmed and is made available to the general public.
---
Watch the presentation: video
---
The objective of the conference was to present and share the various remote sensing techniques currently available, highlighting each ones strengths and weaknesses and providing specific examples of how they can be applied in the sector and their impact on the forest and wood industry (benefits, disadvantages, business models etc.). New technologies and processes based on remote sensing, which until recently played no part in the forest-wood industry, are gradually strengthening, or even replacing, the traditional tools for forestry inventories and monitoring, and are indeed becoming indispensable. New opportunities are opening up thanks to the huge quantity of increasingly powerful, and easily obtainable satellite data now available which is cheap or even free, along with other high accuracy technologies such as LiDAR and photogrammetry.
---
Watch the presentation "Remote sensing applied to the evaluation and management of forest resources: LiDAR and satellite data":": presentation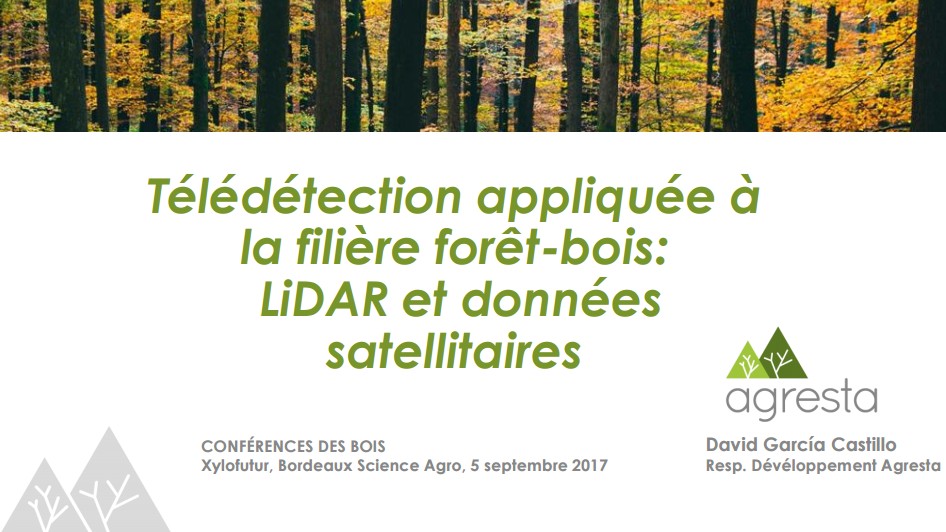 ---