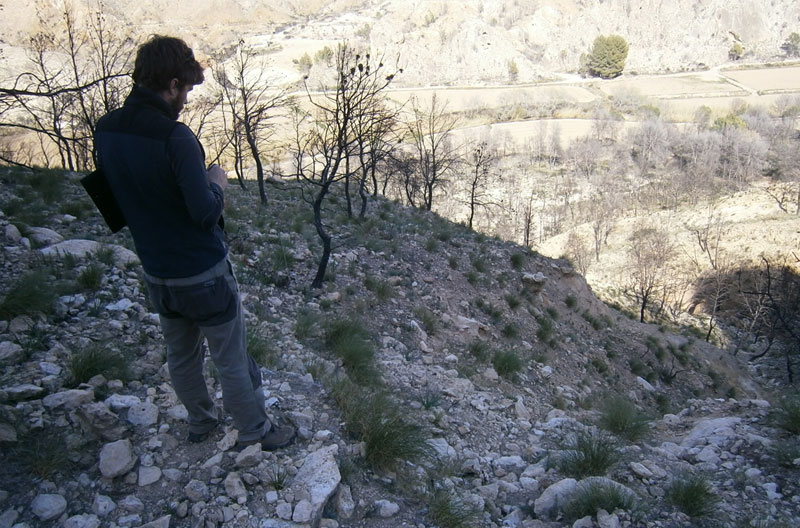 Control of runoff in the shaded hillside of Cerro Pajares following the fire in Salmerón (Moratalla, Murcia)
Characterisation of the phenomenon of gully formation in fire damaged areas after heavy rains and proposals for its solution.
START DATE:
2014
END DATE: 2014
CLIENT: Department of Agriculture and Water. Murcia Regional Government (Consejería de Agricultura y Agua. Región de Murcia)
The shaded hillside of Cerro Pajares was affected by a forest fire in 2012 that started in Hellín (Albacete). The extreme vulnerability of the soil after the fire, together with heavy rains in 2013 set in motion a serious erosion process which affected various infrastructures, such as the breaching of a dam on the river Segura and the blockage of the irrigation channels of the local Water Users' Association. The increased erosion potential of the existing gullies and the appearance of new ones suggest that the problem is likely to recur in the future.
The solution proposed integrates a number of actions, notable among them a direct intervention to halt the deepening of the channels created by the temporary watercourses. We suggested working on the geometry of the gullies in an attempt to make them as similar as possible to the natural form of mountain streams: that is, with a step-pool structure. These structures provide a flexible system which is optimised to dissipate energy, and in this case results in the interruption of the erosive action of the temporary watercourse.
The work in the gullies was carried out following a design using palisades to stabilise the lateral slopes of the gullies made of the charred tree trunks that remained in the area, and builders' rubble to fill in those gullies of greater erosive power. In addition, treatments were applied to the ground to improve infiltration consisting of subsoiling with ridges in the proximity of the irrigation channel.
To calculate the size of the solutions, we used a digital elevation model of the terrain with a mesh step of 1 m, made by a fixed wing UAV and an orthorectified aerial image, which enabled us to make an extremely detailed study of the zone.